Here at this page you can find the summary of PCSO lotto result today for 6/58, 6/55, 6/49, 6/45, 6/42, 6D, 4D, Swertres, EZ2, and STL Pares, STL Swer3 & STL 2-Digits draws.
This page is consistently updated to show the results of lotto draws in a daily basis. Here are the results of the PCSO lotto today for the following games courtesy of PCSO official.
PCSO Lotto Draw
Winning Numbers
6/58 Ultra Lotto - January 21, 2020
*
6/55 Grand Lotto - January 20, 2020
10-29-38-32-33-47
6/49 Super Lotto - January 21, 2020
*
6/45 Mega Lotto - January 20, 2020
03-15-12-08-11-25
6/42 Lotto - January 21, 2020
*
6 Digit (6D) Lotto - January 21, 2020
*
4 Digit (4D) Lotto - January 20, 2020
4-3-4-6
2D Lotto - January 21, 2020
11:00 AM
12-03
4:00 PM
20-14
9:00 PM
*
3D Lotto - January 21, 2020
11:00 AM
6-7-5
4:00 PM
8-9-6
9:00 PM
*
STL Pares - January 21, 2020
11:00 AM
13-37
4:00 PM
16-25
9:00 PM
*
STL Swer3 - January 21, 2020
11:00 AM
9-0-8
4:00 PM
9-7-1
9:00 PM
*
STL Swer2 - January 21, 2020
11:00 AM
8-5
4:00 PM
8-0
9:00 PM
*
The Philippine Charity Sweepstakes Office (PCSO) draws the major lotto games at 9PM everyday while the Swertres, EZ2 and STL lotto digit games are played at 11AM, 4PM and 9PM.
PCSO is the central agency in the Philippines that legally conducts nationwide lottery draws. The money generated from the bets are used to provide funds for charity purposes.
Likewise, the money are also utilized for health programs, medical assistance & services and charities of national character.
All major PCSO lotto result and winning numbers above can come in any order while the digit games should be in exact order.
You may also want to check the jackpot prize of the major lottery games of PCSO.
Quick Reminder for PCSO Lotto Winners Today
If you are one of the winners, this might be one of your luckiest days. However, don't ever skip this reminder and tip from us.
Don't you ever iron the winning ticket! It's your only way to claim your prize.
There was one former OFW winner of a lottery way back 2014 who failed to get his 12 million pesos lottery prize because his daughter tried to iron the crumpled winning ticket.
Also remember that the PCSO generated tickets are heat-sensitive. So, please do not subject it in any way under high temperature.
Philippine Charity Sweepstakes Office
PCSO mainly engage themselves in projects and activities in health and welfare. To quote from PCSO official,
PCSO holds and conducts charity sweepstakes, races, and lotteries and engages in health and welfare-related investments, projects, and activities to provide for permanent and continuing sources of funds for its programs. It also undertakes other activities to enhance and expand such fund-generating operations as well as strengthen the agency's fund-management capabilities.

Retrieved from Philippine Charity Sweepstakes Office
Likewise, the main purpose and product of PCSO is to conduct the daily lottery games to sustain its financial source of charity programs.
Daily and Weekly PCSO Lottery Results and Games Available
PCSO is currently handling four major (4) six-numbered lotto. Further, they are also conducting a six (6) digit game, three (3) digit game or Swertres, two (2) digit game or EZ2 and Small Time Lottery or STL.
UltraLotto 6/58 draws every Tuesdays, Fridays and Sundays with initial jackpot of 50 million pesos. The official PCSO lotto results are tabulated every 9PM.
GrandLotto 6/55 is the next big lottery draw with 55 number combinations. The 6/55 lotto has an initial jackpot of 30 million pesos which is drawn every Monday, Wednesday and Saturday. The next big game is the Superlotto 6/49 with an initial jackpot of 16 million, drawn during Tuesdays, Thursdays and Sundays.
The MegaLotto 6/45 with a 45 number combinations draws on Mondays, Wednesdays and Fridays with an initial jackpot prize of 9 million while the Lotto 6/42 draws every Tuesdays, Thursdays and Saturdays. Thus, having a jackpot prize of 6 million.
In addition, the unit of currency throughout the article is in Philippine peso (Php).
How and where to claim the prize?
For the amount to claim of 5,000 pesos and below, PCSO reminded the public that the office validates the tickets and prizes at the authorized lotto outlet or at the nearest PCSO branch.
For 5,000 pesos up to 20,000 pesos, prizes can be claimed at the nearest PCSO Branch office while above 20,000 pesos prize can be claimed at the PCSO head office located at 605 Conservatory Bldg., Shaw Blvrd. Corner Priceton St., Mandaluyong City.
PCSO Daily Schedule of Games
Here's the daily schedule of the lotto games, courtesy of PCSO.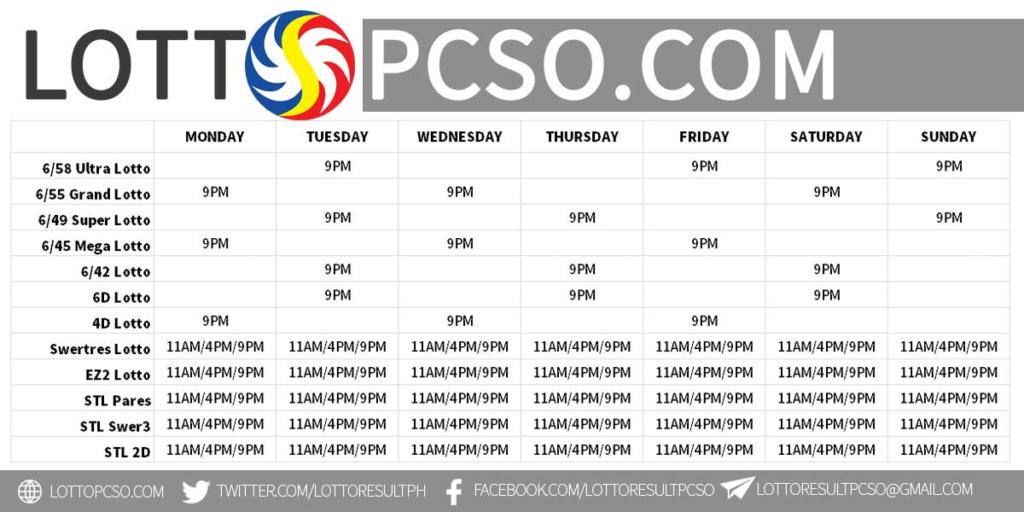 You may also retrieve the lotto result yesterday of the above PCSO-lottery games at their specific category pages.
Updates on lotto results today
Should you have won any of the lotto combinations above, what will you do? We love to hear your lotto lucky numbers today. Feel free to share your thoughts about the lotto results today at the comment section below.
Lastly, you can follow us! You may reach us at our Facebook and Twitter accounts for faster updates.
Congratulations in advance!